In the News
Watch Live: White House Press Briefing with Jen Psaki, Susan Rice – 1/26/21
By R. Mitchell –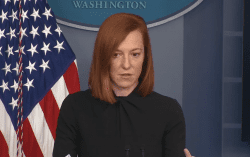 White House Press Secretary Jen Psaki and White House Domestic Policy Advisor Susan Rice hold a briefing Tuesday.
This post will be updated with notes and analysis during and after the briefing. The full video is at the bottom of the page.
Susan Rice
note: unless in quotes, notes are paraphrased for clarity and brevity
In a prepared statement, Rice repackaged redistribution of wealth and equality of outcome as racial equity and racial justice while ignoring the cultural issues that cause disparities between different communities even where equality of opportunity exists.
Rice also said that the Biden administration would not renew any contracts for privately-run prisons.
Q: Biden promised to submit a bill on day one ending liability protections for gun makers. Where is that?
A: We've done a lot in the first few days. Leave us something to do in the next few days.
The executive order to be signed today will only apply to DOJ prisons, not privately-run institutions.
Q: How concerned are you about the threat of white nationalism and what are you doing about it?
A: It's clear to all Americans how serious a problem we face from nationalists and white supremacists. The president has ordered the intelligence community to compile a comprehensive assessment of the nature and threat of this challenge. The National Security Council (NSC) has set up a capacity to focus on domestic violent extremism (DVE). We're taking it quite seriously.
Q: What is the administration doing about the relationship between black communities and police and mass incarceration?
Q: Republican legislatures have said they will rollback election changes made during the 2020 election. How will the administration stop that?
A: On Policing: This is something we are committed to addressing. Stay tuned.
A: On election changes: It's a matter of real concern. We will continue to work with Congress to advance democratic reforms.
Q: As executive actions are easily reversed by future administrations, what steps are you taking to codify these or make them permanent?
A: To codify something requires Congress to pass a law and the president to sign it.
Jen Psaki
note: unless in quotes, notes are paraphrased for clarity and brevity
Q: How much more of the vaccine will be distributed to the states and how quickly?
A: We are working with governors to address that.
Q: Biden said yesterday that he didn't think Democrats had the votes to convict Trump, but that he thought the trial needed to go on. Why?
A: The president hopes the Senate will find a way to handle the trial and Biden's agenda.In response to a question on herd immunity, Psaki immediately watered-down some commitments made by President Biden in yesterday's Q&A session:
Biden's commitment to full vaccine availability in the Spring watered down to "his desire for greater availability in the Spring"
Biden's promise that anyone who wants a vaccination will be able to get on in the Spring to "more Americans will have access as quickly as possible"
Q: How much vaccine is in the stockpile?
A: We get daily updates through multiple systems and we're connecting all the dots. The president will have more of an update this afternoon.
Content created by Conservative Daily News and some content syndicated through CDN is available for re-publication without charge under the Creative Commons license. Visit our syndication page for details and requirements.
Watch Live: White House Press Briefing with Jen Psaki, Susan Rice – 1/26/21 is original content from Conservative Daily News – Where Americans go for news, current events and commentary they can trust – Conservative News Website for U.S. News, Political Cartoons and more.